FLV Hosting has received inquiries regarding mobile delivery and the options within the current system at FLVNetwork. The following document servers to address what is available now, and what's coming up within the FLV Network area, to cover as many end user eventualities as possible.There are 3 issues at hand when playing Flash on Mobile devices..
1. Video Playback
2. Video encoding suited to mobile devices
3. File protection.
For web use, Flash Players will still be around for quite some time to come. Mobile users however, have had conflicts due to never ending battles between operating systems such as Apple and Droid. One solution, while not perfect, is certainly a step forward in video delivery. It's called HTML5.
The main ADVANTAGE to using html5 video, is of course for multi browser multi device video viewing and playback. The disadvantage of HTML5 video is that there is currently no single video format that works in all browsers. The recommended formats are webm, ogv and h.264 (mp4). To avoid having to re-encode 3 types of video format, the best solution is mp4.
While fairly new, html5 can play and connect via a player that looks similar to Flash, to connect to compatible MP4 video files ( recommended for mobile)
HTML 5 definitely has the potential of upstaging Flash in more ways than one, but it is presently a work in progress. Even in its current avatar it helps make mobile phone applications more accessible, and developers are now able to create universal applications for different mobile phones. Additionally, there is no doubt that it offers more flexibility in website creativity. For now, this is enough. What happens in the future is pure hypothesis.
Allow us to offer you a small list of things that HTML5 can do and, in fact, can do very well. This can also help reduce the misconceptions in a big way.
You can create a single application that works on the iPad, iPhone, Windows etc. In other words, it facilitates platform/device independency — a huge benefit in itself.

Helps develop a single website that works on the tablet, mobile, and desktop at the same time.

If used well and the way it is supposed to be used, it can improve website performance.

Enables the use of audio and videos tags across all platforms, but be prepared to do a bit of hard work.

Video, audio and images are all written right into the codes, eliminating the need for any third party software.

Quicker load time as compared to its older version because of WebSockets implementation.

Offers great vector animations for graphics and light effect, but do not expect the moon, the sun, and the stars when it comes to animations; Flash is way ahead in this aspect.

Provides appropriate built-in form validation and type declarations to offer specific keyboard support.
Players;
FLV Hosting has added a (Beta version) HTmL5 player to the FLVnetwork system. To access the player, Log in to your account, choose any video in the system or upload and convert to mp4, then choose "Create Player" then select the HTML5 player for integration. Please note that FLV wont play on Apple IOS, we recommend MP4 files for Iphone/Ipad playback, and for most other browsers/devices.
Encoding:
As a minimum the video format needs to be in MP4 output, available upon upload in the drop down options.. Ideally, using as small a file size as possible while keeping quality at a reasonable viewing level. As with all video encoding, its best done on a desktop prior to uploading, but can also be converted upon upload from your computer. One such tool that can do that is Any Converter free version. Does a nice job in various sizes. MP4 can compress quite well and some tricks can be used such as larger screen dimensions output with lower bitrate. This looks better to the viewer when shown on a smaller screen size such as iphone. or ipad.
Browser Support
As of right now, the video tag is only supported by the more advanced browsers, such as: Chrome, Opera, Safari, and Firefox. Microsoft has promised they will include support in IE9, but current versions of IE will not support it.
This is where it gets tricky. Browsers who do support the video tag can't agree on the method for video playback. Specifically, they can't agree on which codec to use.
File protection. This is still possible by separating the web pages into mobile and web browser. HTML 5 and the URL to the video will still be hidden from the end user, and typically devices will connect and play but not transfer the video. When the system update occurs in FLVNetwork the players should be seamless in delivery.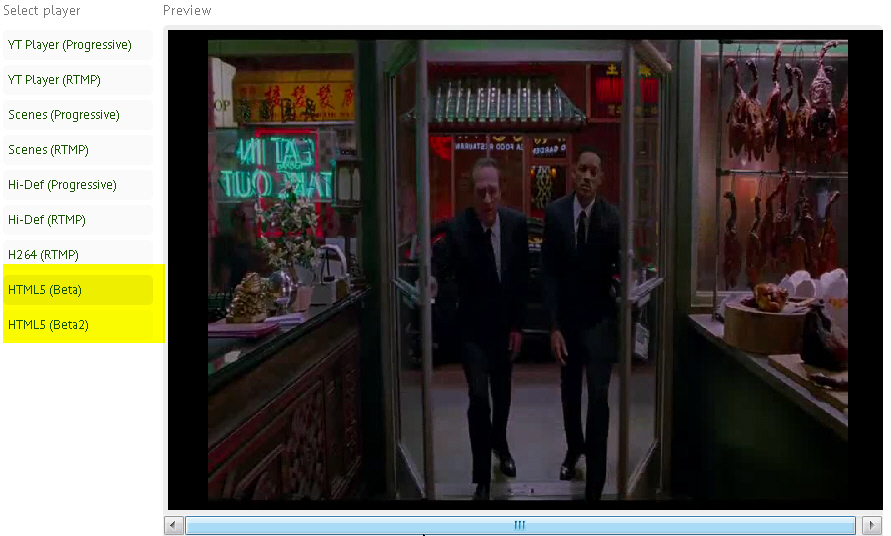 Please let us know if you need help with conversion or with html5 integration for your videos.
FLV Hosting